Question 1:
Why does Papa Louie abandon his chefs?
Answer 1:
It's true, Papa Louie has been known to abandon his chefs. In Papa's Pizzeria and Pancakeria, Papa Louie leaves a note asking for help while he's off running errands and going on "adventures". This is usually a last-minute thing that Papa must do, and has every intention of returning soon, but rarely does.

Then you have other games where Papa Louie pulls what appears to be a "bait and switch" on his customers. This is where Papa Louie has a contest or a prize for his lucky customer which ends up being a job at one of his latest restaurants. Papa Louie loves his customers and truly thinks it's a great prize to work at one of his many restaurants, although the workers don't always see it that way.

Finally, you have scenarios where Papa is outright hiring and people apply for the job. This happened in Papa's Freezeria. It was understood that Papa would leave (presumably on vacation), but his job booklet may have been a bit misleading.

Papa Louie has good intentions and he loves cooking, so it's hard for him to imagine anyone who wouldn't love flipping burgers and stacking pancakes all day long.
Question 2:
Who is your favorite character (not Papa Louie)?
Answer 2:
Tony: My favorite non-Gameria character would have to be Cactus McCoy. My favorite customer would have to be Little Edoardo. Every time he come into a restaurant, I can't help but smile and imagine him going crazy on a pair of bongo drums.
Matt: I'm also a big fan of McCoy, though my favorite non-Gameria character right now is the sheep with a mustache in Jacksmith, makes me laugh every time I see him. It's hard to choose a favorite Gameria customer, but I've always loved seeing Wally when he visits the restaurants.
Question 3:
Why are all the Papa's games endless?
Answer 3:
We tend to consider the games completed when you unlock Papa Louie. However we also have badges, prizes to win, things to buy, and customers to level up. So the game is left open so that you can continue working towards your own personal goals in the game.
If you have any other questions, click the "Ask a Question!" button at the bottom of the blog!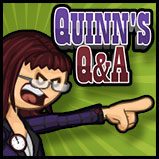 Comments
Powered by Facebook Comments