Mushbits
Unite bunnies and mushrooms in this bouncy puzzle game. Click and drag to select a path for each bunny. Bunnies can only move on platforms of the same color, so strategize to find a way towards victory. Play Now!
Stop GMO
You wanted an enormous garden so you used some fresh mutant fertilizer. Now your garden is alive, angry, and after you! Fight the salad or become one! Don't forget to jump on the pumpkins for money…. seriously.
Play Now!
Fruits
Smash all the wacky fruit to make refreshing fruit juice in each level. Play Now!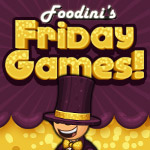 Comments
Powered by Facebook Comments