Avalanche
Help the penguin escape the thundering avalanch! Avoid pitfalls and gather goldfish as you make your way to the bottom of the mountain. Play Now!
Symbiosis
Symbiosis is an innovative game where your main objective is to destroy crystals using powers of your plants. Tons of upgrades, spells and achievements. 15 challenging levels. Have fun!
Play Now!
A Short History of the World
A thrill ride through the history of time. 38 exciting mini games, each one covering a different period in history from the Ice Age to present day. Play Now!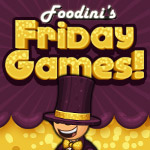 Comments
Powered by Facebook Comments