Hero's Arms
Defeat the evil Gordzak in his lair to restore peace once and for all in this retro-fashioned Zelda-like adventure game. Play Now!
Snowball
Snowball is a winter-themed pinball adventure from Pixeljam, creators of Dino Run and Gamma Bros. Guide your ball through a huge kid-created winter wonderland in search of jewels, secrets and good old-fashioned fun.
Play Now!
Dnola: Prelude
This exciting spin on the turn based RPG genre sends players on an epic journey across the land of Enola. Battle a wild variety of enemies and bosses across 16 unique hand drawn levels. Play Now!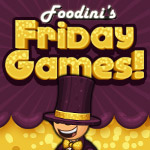 Comments
Powered by Facebook Comments