Question 1:
Who is Little Edoardo's wife, the mother of Bruna and Carlo?
Answer 1:
Little Edoardo's wife was the late Giordana Romano. Unfortunately, she passed away 10 years ago of old age (she was 8 years older than Little Edoardo).
Question 2:
What gave you your idea of your first game, Remnants of Skystone?
Answer 2:
Remnants of Skystone was actually our fourth game (Papa Louie, Papa's Pizzeria, and Rock Garden were released earlier).

After working on Papa Louie, we were throwing around ideas for a new platformer where different classes of characters had different platforming abilities, which would be used to navigate the same levels in different ways. We were also interested in making something with a larger interconnected map in Metroidvania style.

When Kongregate started funding large-scale games for its "Premium Games" program, we came back to this concept, and brainstormed on different ways characters could navigate a level. We eventually narrowed it down to ability sets of flying, climbing, and swinging, and figured out what types of combat would go best with with those movesets. Kongregate suggested pitching something with an edgier or grittier feel, so we imagined a sort of ruined world that these three types of characters were trying to reclaim. We started out with a Steampunk theme for our flying class of Aeronauts, and we strayed into tribal and mountain-climbing themes for the other classes to make them each unique and relate to their abilities. We're big fans of the 16-bit Metroid and Castlevania platformers, so Skystone was very much inspired by those games.
Question 3:
Will be there a "save backup" function for the other Papa's games?
Answer 3:
We have just updated Papa's Freezeria and Papa's Taco Mia with backups! Now all our Gamerias have "Save Backups" except Burgeria and Pizzeria, which unfortunately will not be getting the backup option because they're made with earlier versions of Flash that won't support it.
If you have any other questions, click the "Ask a Question!" button at the bottom of the blog!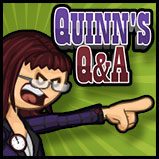 Comments
Powered by Facebook Comments