Fort Blaster
Blast enemy soldiers within their forts! Destroy everything on your way to the booty! Earn achievements and collect the entire collection of trophies! Arrgh!!! Play Now!
Catch a Duck
Finding a way to catch a duck will be quite a challenge when you have to run away from hungry wolves, angry bears and crazy hunters shooting to everything that is moving.
Play Now!
Georganism 3
Explore mystical islands and decorate their ancient totems in this puzzle platformer. Play Now!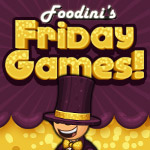 Comments
Powered by Facebook Comments