Bad Ice Cream 2
The ice-cream baddies are back. Gather fruit and use your icy breath to become the baddest of the bad. Play Now!
Searching for the Elephant
He has lost his elephant friend… An Exciting trip to a black and white world of robot aliens begins! Rescue all the animals from robo-researchers to unravel the mystery and to find a lost friend.
Play Now!
Desktop Racing 2
The amazing racing game is back! Race on your office desk, as you upgrade your car abilities and much more. Play Now!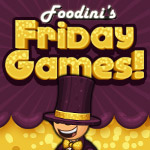 Comments
Powered by Facebook Comments