Mad Burger
This outdoor chef loves cooking burgers on the grill. Hamburger or Cheeseburger, it does not matter this chef will grill it perfectly then send it soaring to his patient customers. Play Now!
Slice the Box
What happens when you stumble upon a room full of cardboard boxes and a pair of scissors? Start slicing of course!
Play Now!
Piggy Wiggy Seasons
These piggies have a hankering for some acorns. But it's winter, and they're hard to find in the snow. Help them track some nuts down in this point & click game. Snaffle up all the acorns in each level. Play Now!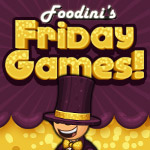 Comments
Powered by Facebook Comments