Question 1:
In Papa Louie 2, why is there only one Cheese Wheel in the whole game?
Answer 1:
Back when we were making the first Papa Louie game, we started out with lots of different foods as enemies in our first draft, like jumping green peppers and flying cannolis. As we kept working on the game, we created more varieties of onion enemies and removed our older placeholder enemies — except we forgot about one lone Cheese Wheel in World 3! The game was already released by the time we noticed. When we started working on Papa Louie 2, we decided to add just one lonely Cheese Wheel to the new game as a tribute to the original.
Question 2:
How do you choose your next Gameria?
Answer 2:
When we were brainstorming a sequel for Papa's Pizzeria, we started a list of different food ideas and how the food preparation could be turned into 3 or 4 hands-on stations, and we've kept adding to the list since then! Sometimes we have a food that we want to use, but we just can't come up with a good way to break the process up into Gameria-style stations — for example, we had "chicken wings" on our list for years because we couldn't figure out a good mechanic for a Build Station, until we finally came up with the plate presentation for Papa's Wingeria. When we look through our finished ideas to pick one, we also usually try to come up with a new mechanic that hasn't been used in the previous games, like frosting cupcakes or saucing wings.
Question 3:
Who is the Mother of Gino Romano and wife of Giacomo Romano?
Answer 3:
As some of you may know from the Gino Romano Flipdeck, his father was Giacomo "Gigante" Romano. To answer your question, Gino's mother's name is Florentina. She's very very old and doesn't get out and about much. Needless to say, you won't be seeing her waiting in line for any of Papa's restaurants. Florentina is fairly content with the cafeteria meals served at the Prune Creek Retirement Home.
If you have any other questions, click the "Ask a Question!" button at the bottom of the blog!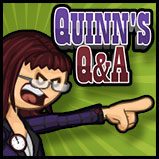 Comments
Powered by Facebook Comments