Question 1:
Do you guys make games at your homes or is there a specific place that is Flipline Studios?
Answer 1:
When we first graduated college, we were working from our two separate homes (hence the plural studio in Flipline Studios). But less than a year later, we found a nice studio loft in Cleveland, Ohio. We live about 30 minutes from each other so the Studio is a nice halfway point between the two of us. It has an open office space, bathroom, kitchen, and a sound room for recording music and sound fx.
Question 2:
What is the Flavor X drizzle recipe?
Answer 2:
Unfortunately, even we don't know the recipe to the Flavor X drizzle. Papa Louie found a batch of it in the uncharted X-Zone. He taste-tested it and found it incredibly delicious and quite invigorating. Not content with keeping it for himself, Papa brought it out for the first time to celebrate New Years in Papa's Cupcakeria.
Question 3:
Can you list the names of the baseball teams in Papa's Hot Doggeria including where the team is from?
Answer 3:
Sure, we can do that! The Tastyville Tomatoes, the Burgerburgh Sizzlers, the Tacodale Hardshells, the Calypso Island Coconuts, the Maple Mountain Flapjacks, the Starlight City Buffaloes, the Frostfield Batters, the Portallini Gondoliers, the Oniontown Crushers, the Powder Point Woolies, the Sakura Bay Samurais, and the Toastwood Turkeys.
If you have any other questions, click the "Ask a Question!" button at the bottom of the blog!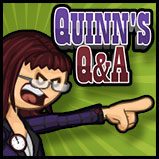 Comments
Powered by Facebook Comments