Battle of Heroes
Choose a side! March your troop forward as the greatest general of the Holy Sun Empire, or command the Great Demon Army in a quest of evil world domination. Play Now!
The Sun for the Vampire
This is a story of a lonely vampire who yearns for the sun's warm rays. Help him unlock the magical secrets to finally enjoy the summer sun.
Play Now!
Papa's Donuteria
You just got a job at Papa's Donuteria in the whimsical town of Powder Point. Sure, the great pay and benefits are nice, but you took the job for that coveted Line-Jump Pass. Cut out the donuts, fry 'em up, and decorate them with a dizzying array of toppings. Play Now!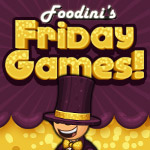 Comments
Powered by Facebook Comments