Hey Everyone!
For this weeks sneak peek, we wanted to show off the all new, streamlined Topping Station in Papa's Pizzeria To Go!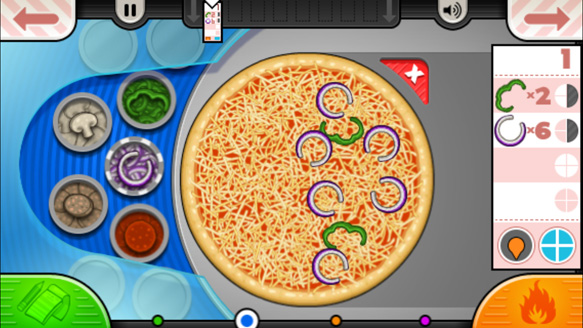 For this game, we've completely redesigned the Topping Station for smaller screens.  Bins of toppings can be scrolled around the pizza with your thumb, which allows us to have many more toppings than in the original game.  We've also done away with dragging each individual topping onto the pizza. Now, simply tap on a bin to select that topping, then tap multiple times on the pizza to add items directly onto the pizza. For those extra talented chefs, you can even drop multiple toppings at once by using more fingers. This cuts down on time spent making massive supreme pizzas for some of your extra hungry customers. When you've finished topping your pizza, a quick swipe on the pizza will send it off the to the Bake Station.
Stay tuned for more information on Papa's Pizzeria To Go!
Comments
Powered by Facebook Comments