Happy Mart
The Happy mart is now open! In this fun pixel simulation game you need to build and upgrade your own supermarket in several cities. Build shelves and oversee the stockpile. Manage your staff and create the happiest supermarket ever built. Play Now!
Cluck-O-Nauts
This chicken is lost in open space. And he doesn't know how to reach the spaceship. You have to help him. Throw a chicken using the gravitation of other planets. Don't forget to collect eggs to get more points.
Play Now!
Grav Escape
Mr. Bunny was captured and given experimental gravity controlling powers by an evil corporation! Try to escape from the confines of the mad science laboratory and discover the truth! Play Now!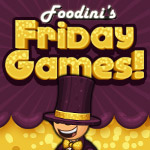 Comments
Powered by Facebook Comments