Bobby Da Arrow
Goblin hordes have invaded the peaceful kingdom of Alreo…can you beat this goblin invasion? Play Now!
Madburger 3
Cook the burger, get good recipes, buy the ingredients and new skills and kicks it as far as possible! Caution Do not fall into the hands of bandits and hungry residents!
Play Now!
Cookie Needs Jam 2
A freshly baked cookie is looking for some jam to become complete. Help them unite! Remove the crisps and other tasty things that are in they way with your mouse. Play Now!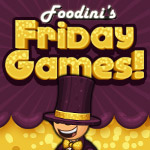 Comments
Powered by Facebook Comments