Shop Empire: Fable
Step inside this magical kingdom and find out if you've got what it takes to run a successful shop or two. Would you like to open a bookstore? Or how about a clothing boutique? Become a tycoon in this enchanting simulation game. Play Now!
Troll Face Quest: TrollTube
Trololo! Trollface is trolling TrollTube! Help him search for some unlucky adventures and solve the tongue-in-cheek puzzles in a point-and-click game that will have you screaming for more. Troll on the floor laughing!
Play Now!
Stacko Level Pack
Enjoy this addictive puzzle game! In each level you need to move the colored chips to build the task stack. Additional level sets introduce new mechanics. Completing puzzles in fewer moves earns more stars. Play Now!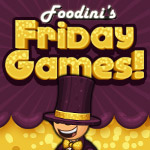 Comments
Powered by Facebook Comments