Papa's Taco Mia To Go!
It's a flavor fiesta in this new version of Papa's Taco Mia, with gameplay and controls reimagined for iPhone and iPod Touch! Play Now!
A Dumb Family Die
A Dumb Family Die is a casual game about a family of aliens who do challenging, bizarre and reckless things. Experience the 5 family members with lots of challenges you could complete, or maybe watch them fail.
Play Now!
Rubble Trouble Tokyo
(Classic) The Rubble Trouble demolition crew is heading to Tokyo! Use all sorts of tools, toys, and explosives to bring down the buildings. Play Now!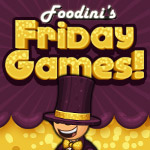 Comments
Powered by Facebook Comments