Hey Everyone!
Huge day today, the Flipdecks are all finished and ready for purchase! We have a brand new shop built to sell the Flipdecks. We also ship internationally! So far we have 12 packs of cards, with each pack containing 12 cards.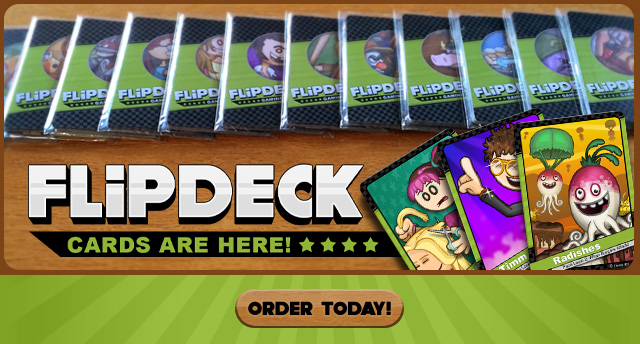 Unwrap these packs of Flipdeck Gaming Cards, and build your collection of cards featuring your favorite characters!  Each pack contains ten cards as seen on the Flipline Studios website, and are grouped in the order of their release, so you'll know exactly which cards you'll receive in each pack.  Each card features the detailed artwork previously seen on the website, presented in high-resolution and printed on premium trading card stock with rounded corners.
The back of each card contains a brief biography of the character featured on the front, along with brand-new factoids about the character including their hometown, likes, and dislikes.
Each pack also includes two Flipverse cards, featuring towns and locations seen in our games. Collect them all, or trade with your friends!
Comments
Powered by Facebook Comments
By