Dash Dash
This little bird is being chased by a terrible monster. Run, jump over obstacles as you collect coins to upgrade your bird.
Play Now!
Kingsley's Customerpalooza 2014
is a world-wide search for the absolute best fan-made customer that our eyes have ever seen! Simply create a customer, save the photo from the game, and submit it by September 17, 2014! Play Now!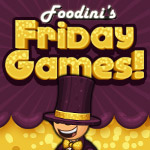 By