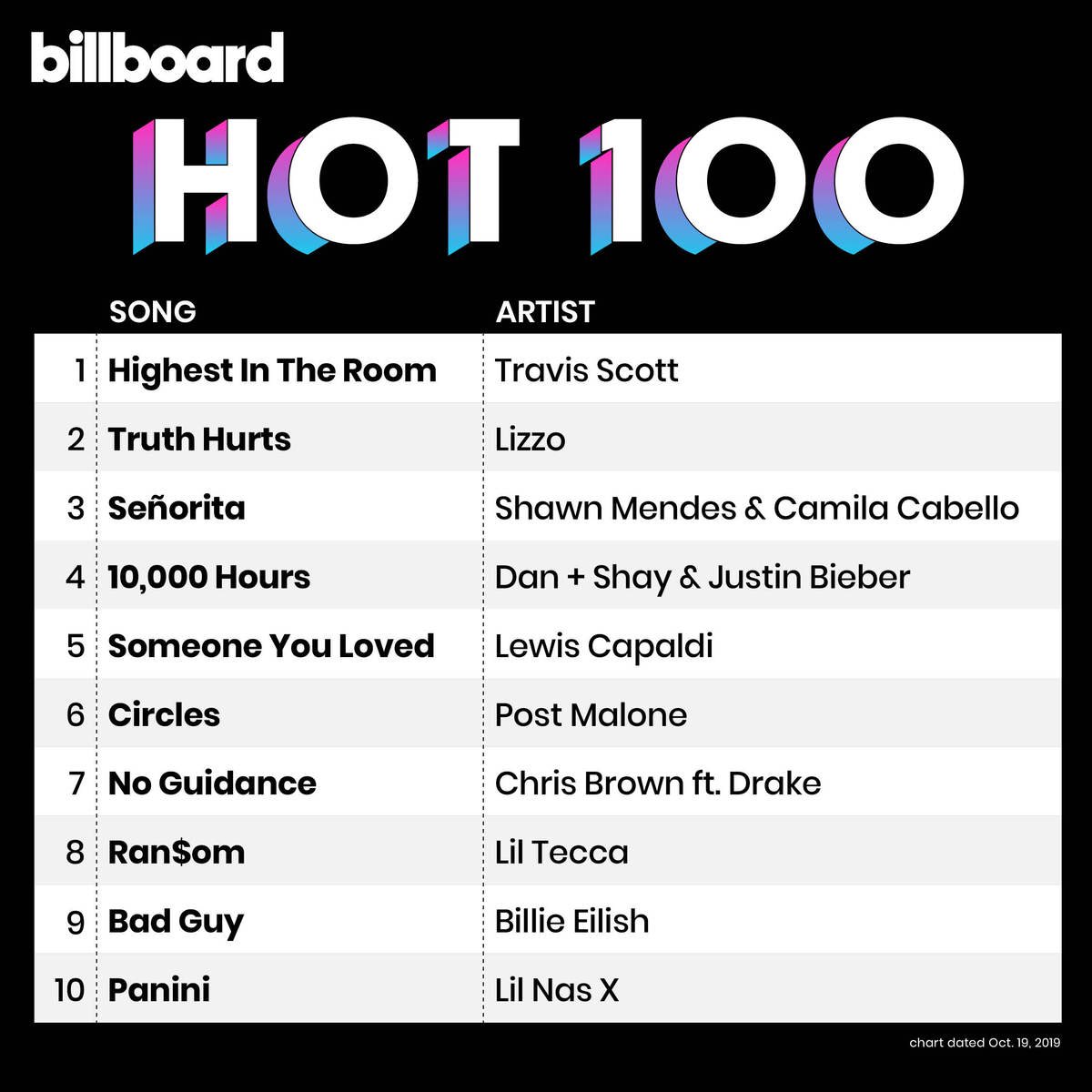 Hot 100 highlights
- Travis Scott's HIGHEST IN THE ROOM (all caps) is the first song to debut at #1 since the Jonas Brothers' Sucker back in March, which is kinda surprising to me given that there seemed to be little to no hype surrounding the release
- If the song stays at number 1 long enough, then Lizzo sadly won't beat out Iggy Azalea for the longest female rapper number 1
- Dan + Shay score their first top 10 hit with 10000 Hours, which debuted at #4 due entirely to the fact the guest feature is Justin Bieber.
- Juice Wrld has a new song at #11 which I hadn't heard about
- Yay for Old Town Road not being in the top 10 finally
- Lover justifiably got a boost from somewhere to reach #34, and am glad that this song has a chance to make the year-end top 100 now
- These charts keep getting weirder by the week, I have no idea who Summer Walker is but she clearly has big enough of a following to score a major album bomb
- Without Me left the charts after 52 weeks
- boyfriend completely loses momentum, falling to #59 which doesn't surprise me as much because it is forgettable if decent
- Niall Horan's new song Nice To Meet Ya debuts at #83. It's actually quite the bop if you give it a fair chance
- Dance Monkey
finally
debuts on the Hot 100 at #96. As I've recently come around on the song, I hope it becomes a hit the same way it has in other parts of the world.
- I have no clue why it's back after a whole year, but I won't complain that Slow Dancing In The Dark by Joji is at #100 this week
- Looking ahead to next week, Harry Styles should have a good shot at the top with his latest track, Lights Up.
- Internationally, Travis Scott debuted high in most countries, though most were not at #1 due to the reign of various other songs
Hot take of the week
Thank bleep those new Charlie Puth songs aren't charting.