Having trouble playing the games on our site? Here are some reasons why this would be happening, and some tips to help you fix the problem and be able to play our games!
Enabling Flash Player in Chrome
Starting on July 30th 2019, the Chrome browser will automatically block Flash content from being used on all websites. All of our games require Flash to run, so you need to re-enable Flash Player in your Chrome browser:
Step 1:
When you click to start a game, Chrome will show a "Plugin Blocked" message in your address bar.
Click the puzzle piece icon that appears in this message.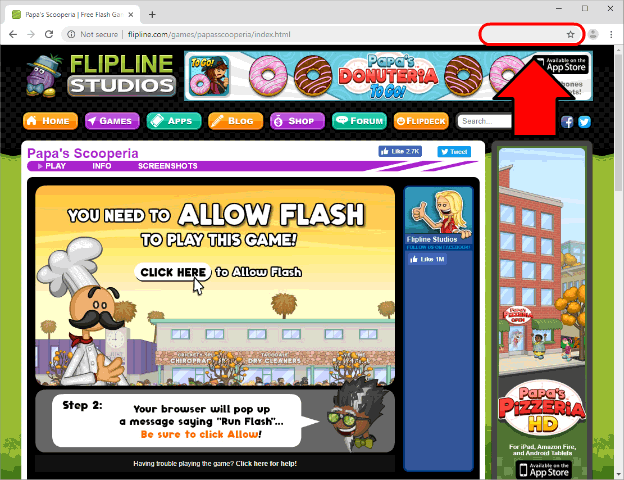 Step 2:
When you click that "Plugin Blocked" puzzle piece icon, a popup will appear saying that Flash has been blocked.
Click on the "Manage" button in this popup.
Step 3:
When the Chrome Settings page opens, click on the toggle switch to change Flash to "Ask First"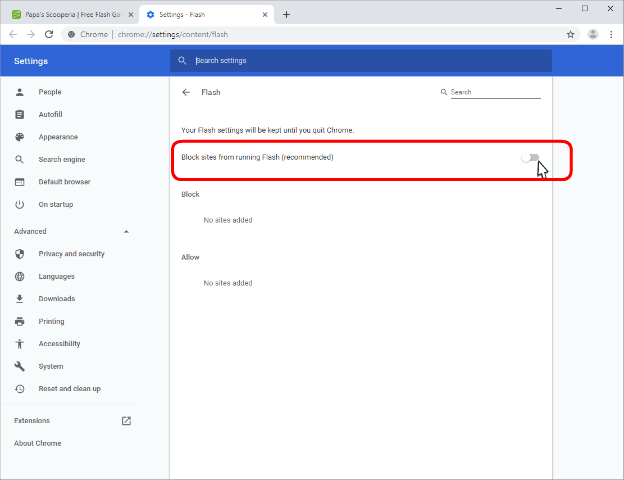 Step 4:
Close the Chrome Settings page, and click on the game area again to start the game.
A popup will appear asking you to Run Flash, click the "Allow" button to start the game!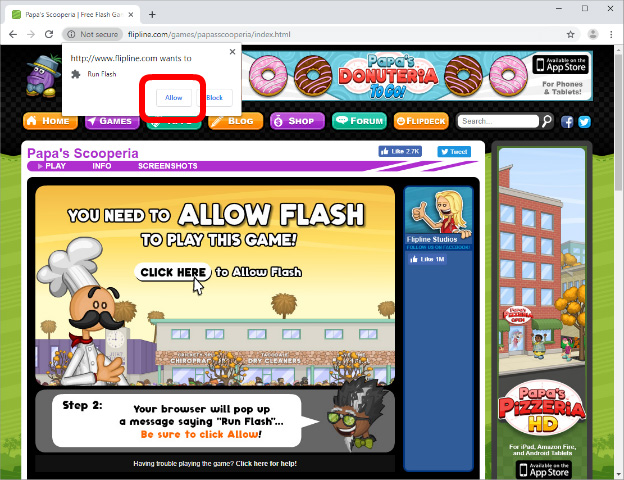 Make sure you're playing on a desktop computer
The games on our website only play on desktop computers, and won't be playable on phones or tablets.
If you want to play our games on your mobile devices, check our Apps page to see the apps we have available for your phone or tablet!

I just see a black screen!
Your browser may have had trouble loading the game. You can try to force your browser to reload the game by pressing Ctrl + F5 on your keyboard. You can also try pressing Ctrl + Shift + R instead, or trying holding the Shift key while you click the Refresh button in the browser.
Make sure you're not using an ad-blocker in your browser, these can sometimes prevent the game from loading if the advertisement doesn't play.

The video advertisement just stops or sticks at the end and the game doesn't play!
There may be a problem with this ad that's preventing the game from starting. You can try refreshing the page to see if you get a different ad that finishes correctly. If this doesn't work, please email us at support@flipline.com to let us know about the ad that get stuck (what the ad is for, if there is a brand name or website name in the ad) so we can try to find it and disable it.
Flash Player is blocked or disabled in Chrome
If you use the Google Chrome browser, it will now require you to "Allow" Flash Player to run on each individual site you visit. If you haven't already allowed it to use Flash Player on the Flipline Studios website, you will see a message saying that you don't have Flash enabled. When you click that image, Chrome should show you a popup like this:

Be sure to click "Allow", and games should now play in your browser!
I see a screen that says "Right-click to run Adobe Flash Player"
If this appears, right-click on this and choose "Run this plugin" to start the ad or the game. If you're tired of seeing this screen a lot, check the next step below to fix it so this doesn't appear anymore!

What if I accidentally blocked Flash in Chrome?
There's an easy way to fix this! You will need to click the "( i )" icon next to the website URL in Chrome, and a popup will appear with various settings. Look for an option called "Flash", and it may say "Ask" or "Block" next to it. Click that option to the right, and choose "Always allow on this site". Click the "Refresh" button in your browser, and games should play again!
Here's an animated walkthrough of how to turn this back on: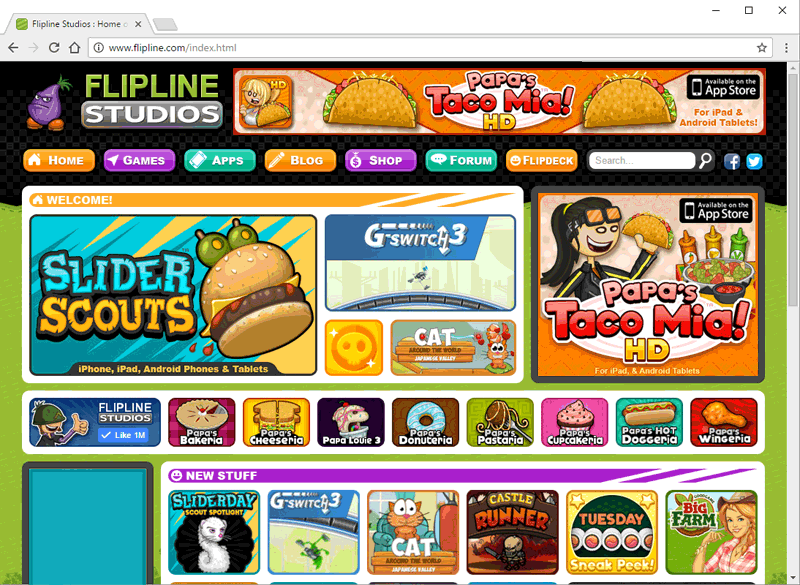 I see a screen saying I need Flash in the Safari browser on a Mac
Apple makes it a little tricky to get Flash games to play in the newest version of Safari.
Follow this walkthrough to find out how to enable Flash in Safari:
Enabling Flash Player in Safari

I'm still having trouble!
Please send us an email directly and we'll try to help!
Contact us at support@flipline.com