Dibbles 4
Command the Dibbles and help their king safely cross 33 Xmas themed levels. What's so important to him that he needs hundreds of his loyal subjects to lay down their lives this time? You'll just have to complete the game and find out! Play Now!
PaintWorld
After a wild twister hits PaintWorld, the paintballs are scattered across the land. Help them reunite and escape their inky chambers.
Play Now!
Transmorpher
You're leading the escape from the lab. Find your way out by absorbing others and using their abilities to reach the exits. Play Now!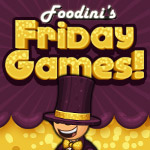 Comments
Powered by Facebook Comments