Question 1:
Who are Georgito and Johnny loosely based off?
Answer 1:
Tony: We say loosely because they don't really reflect the real people they were once based off of. Georgito and Johnny are loosely based off of two of my friends. George was always persistent about me making him a customer. Not only a customer but a wealthy customer. Finally I told him I would, but he would be really short and sporting a monocle. John would always playtest our games as soon as they were released, so I thought I'd make a customer for him. And no, he's not a lumberjack.
Question 2:
Why are your games not on the Wii, Xbox, Playstation, 3DS, etc?
Answer 2:
We are just two guys working on games here at Flipline Studios. We try to keep a balance between releasing web games and porting our existing games to other devices. We have spent most of this year learning how to port to mobile phones and tablets. Coding games for those devices is similar to how we make webgames, and launching games on those devices is very straightforward. Currently, coding and launching a game for the home and handheld consoles like the Xbox 360 and Nintendo 3DS is much more complicated with many more barriers of entry. So although we will continue to make apps for phones and tablets, we are not quite ready to dive into the current console market.
Question 3:
What is the Loco Mystery Sauce recipe?
Answer 3:
Don't tell Papa Louie we told you, but here is his secret recipe for his Loco Mystery Sauce…
Ingredients:
6 oz of Tastyville Tomato Paste
2 tsp of cayenne pepper
3 cups of water
2 tbsp of Pauly's Chili Powder
2.5 tsp of salt
2 tsp of cornstarch
2 tsp of white vinegar
2 tbsp minced dried Purple Onions
3 tbsp of Purple Hot Peppers
1 Adult helper/supervisor

With the help of an adult, mix the tomato paste and water in a saucepan. Stir over medium heat until it's nice and smooth. Then stir in the chili powder, cayenne pepper, salt, cornstarch, vinegar and dried onions. Chop up the purple peppers into very fine pieces (if you can't find Purple Hot Peppers, you can substitute 2 tbsp of canned jalapeno slices). Add the chopped peppers to the saucepan and heat the sauce to boiling stirring occasionally. Once boiling, stir for 3 minutes then remove from the heat. Let the sauce cool, and then put into a sealed container and refrigerate.
If you have any other questions, click the "Ask a Question!" button at the bottom of the blog!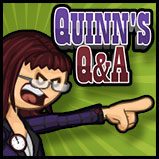 Comments
Powered by Facebook Comments