Question 1:
What's the process for deciding on each customer's unique order? Do you keep a rough idea of the customers' personalities and try to match their orders to them?
Answer 1:
We do keep track of many customers' tastes, and use that to help us figure out their orders in each new game. When we're first planning the new game and deciding when each topping will be unlocked, we try to match it with a customer who would order that topping. For example, Prudence ordered pickles in Burgeria (and has a dog named Pickle!), so she also appears when pickles are unlocked in Hot Doggeria. Later in the game, sometimes we realize we haven't used much of an ingredient by a certain point, so a customer that's unlocked around then will order that item (as long as it makes sense for that character).

We try to refer back to their previous orders as often as we can, so Wally continues to order mayo and seafood whenever they're in a game, and Sarge Fan gets onions or Wild Onion sauce (or berries if he can't get onions). Big Pauly always get something terribly unhealthy, though he's making an effort in Hot Doggeria with some Diet Fizzo.
Question 2:
Have you ever worked in fast food yourselves?
Answer 2:
Matt: I worked in a pizzeria during high school and college. Some nights it really would be as hectic as in the games, especially if someone was stuck doing everything alone like Roy does in Papa's Pizzeria. Papa's customers are very picky, but there were plenty of people like that in real life too: One customer always demanded a refund if his pizza wasn't cut perfectly evenly.

Tony: The closest thing to a job in fast food was working as a busboy at a TGI Fridays. I didn't get to cook or prep any food, but I was paid mainly in tips.
Question 3:
Just like Clover's brother is Marty, are there any more relatives?
Answer 3:
Obviously, the Romano Family Quartet members are related. Vicky is Mindy's mom and Xolo is Xandra's brother. There are more relatives, but you will have to wait until a Flipdeck reveals it.
If you have any other questions, click the "Ask a Question!" button at the bottom of the blog!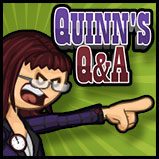 Comments
Powered by Facebook Comments