Hot Air Jr
Help Hot Air Jr find his lost dog while avoiding the dangerous obstacles ahead. Play Now!
Band of Heroes
Josh is a rogue treasure hunter on the prowl for the most sought after treasures and artifacts. This leads Josh into some serious trouble, but he just might survive if he teams up with others.
Play Now!
Stop GMO 2
The angry rabbit is back! help him to stop the GMO! Upgrade your abilities and win the game! In other words, make a salad or they will make you a salad. Play Now!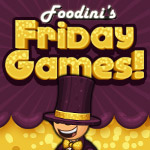 Comments
Powered by Facebook Comments