Question 1:
Do you have any idea of launching another game for mobile devices?
Answer 1:
We are definitely planning on releasing more apps for mobile devices. We already have the next one in mind and have most of the planning figured out for it. We can't release any more details than that for now! It will be awhile before we start working on it though, because we have a few online games that we want to finish up first.
Question 2:
Are you planning to continue the Cactus McCoy series?
Answer 2:
We do have plans on continuing the Cactus McCoy series! Unfortunately, Cactus McCoy games take a very long time to make. We had plans of making the next game in the series last year, but it didn't fit into our schedule and it had to be postponed. Before the game was delayed, we managed to get the pre-production done, the story hammered out, and some of the new weapons drawn up. We are also considering shortening the length of the games in order to better fit them into our schedule. Unfortunately, we don't have a set date as to when work will resume on the next game. We just wanted to let all the Cactus McCoy fans out there know that we haven't given up on our favorite green cowboy!
Question 3:
Will you guys make animations?
Answer 3:
Wouldn't that be awesome! Unfortunately we are mainly focused on creating fun games for you guys and making animations would definitely cut into our schedule. So as of now, we have no plans on making animations, cartoons, or feature length movies.
If you have any other questions, click the "Ask a Question!" button at the bottom of the blog!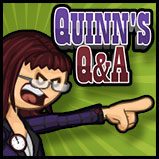 Comments
Powered by Facebook Comments