Question 1:
When ordering (in a Gameria), why do some people talk faster than others? Is this on purpose?
Answer 1:
In most of the Gamerias, when a customer earns five stars and gets a "Star Customer" award, they'll start placing their orders faster. If you earn a Silver or Gold award for that customer, they'll order even faster too.
Question 2:
What inspired you to introduce Foodini in Papa's Pancakeria?
Answer 2:
For every Gameria, we try to add some new features that improve the series, and give players more to do than just preparing the food. We wanted to add something that would break up the monotony of just doing the same thing day after day, so we decided mini-games in between days would be a fun break, and a great way to earn some new items in the game. Of course we needed a game show host for these new events, so Foodini joined the cast and the customer lineup as a glitzy, over-the-top announcer.
Question 3:
Why is there no hot chocolate in Papa's Pancakeria?
Answer 3:
In Pancakeria's Drink Station, we focused on beverages that are typically served with breakfast (like coffee and juices). Although we have chocolate milk, we don't have hot chocolate. We would have needed to add "Hot Water" as a liquid option. That would have been great for making hot chocolate, but the other combos would have been weird (hot cream water, iced hot water, and hot sugar water). The other option would have been a way to heat up the chocolate milk, but you wouldn't really have time for that.
If you have any other questions, click the "Ask a Question!" button at the bottom of the blog!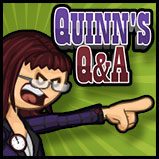 Comments
Powered by Facebook Comments