Hey Everyone!
For this week's preview, we wanted to walk you through some of the menus within Papa Louie 2, and give you a better idea of size and scope of this game!
Lets first look at the map!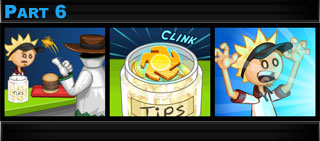 In Papa Louie 2, we will have over 9 large levels to explore which encompass 5 unique areas within the Land of Munchmore! If you remember from the intro "Off to Work", Marty received a strange coin in his tip jar. That coin is called a Warp Key and it is responsible for the opening up the portal to the Land of Munchmore.
To reach different areas of the land and search for Papa Louie, you'll need to collect multiple Warp Keys to expand the portal's range. On the map above you can see Level 1 and 2 are unlocked, but Level 3 can't be reached until you collect 3 Warp Keys, and Level 4 needs 5 Warp Keys before it will be unlocked. Each time you rescue a customer, you'll receive another Warp Key. You may be wondering, how can you gather 5 Warp Keys if you only have 3 previous levels to beat? You started out with one Warp Key in your Tip Jar, and you'll gather 3 more for beating the first three levels, but you still need one more Warp Key to unlock Level 4. This brings us to our next screenshot:
When you choose a level to play, you will then go to the "Choose Your Character" menu. Here you will see a list of all the challenges within each level on the left side. Each level has 6 unique challenges, which means 6 potential Warp Keys to earn. Three of those challenges are rescuing trapped customers hidden throughout the level. Most challenges require a special skill to complete like Big Pauly's Ground Pound, or one of the other 5 Skills that your customers may possess.
You will also notice in the above screenshot that you'll have a total of 28 customers to unlock, each with their own unique weapon of choice. You can see that Marty is sporting some new threads too. That is because you can use the coins that you earn to purchase two additional outfits for each customer!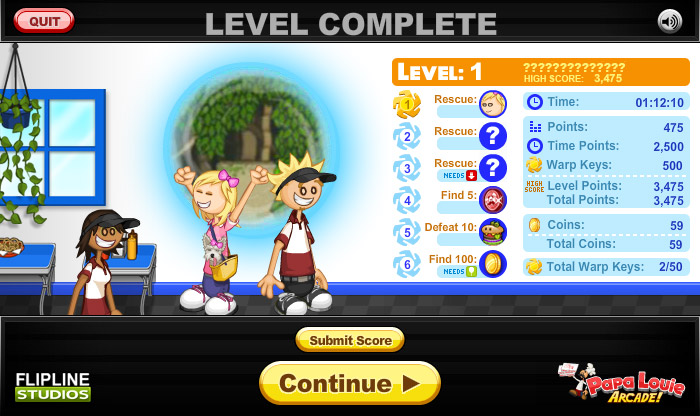 Once you have rescued a customer, a portal opens and warps the two of you back to the Burgeria lobby where everyone is awaiting your safe return. Your score and coins are then tallied up and you can continue your search for Papa Louie!
Stay tuned for more info on Papa Louie 2: When Burgers Attack!
Comments
Powered by Facebook Comments