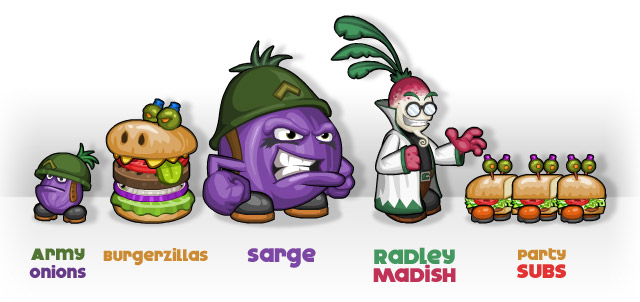 Hey Everyone!
We want to introduce you to some new and returning baddies that will be appearing in Papa Louie 2: When Burgers Attack! In the first Papa Louie game, you had only a few enemies that you encountered in the game. You had Tomatoes, Party Subs, Pizza Monsters and 8 various members of the Onion Ring.
In Papa Louie 2, we have packed in over 30 unique enemies and two challenging Boss battles. Above you can see some of the enemies that will be in the game.
Army Onions were actually planned to be in the original Papa Louie game, but didn't make the  final cut. So we wanted to make sure they made it into the sequel.
Burgerzillas are the Pizza Monsters of this game. Although you don't have to go around collecting Burgerzilla boxes to finish the level, you will need to hunt them down in each level to earn a new Warp Key. Burgerzillas take multiple hits to kill, and with each hit they will loose a topping and become shorter and shorter.
Sarge has returned and he wants revenge!
Radley Madish is wild radish scientist who has hired  Sarge and his Infamous Onion Ring to wrangle up Papa Louie and his loyal customers. He's a master of gadgetry and foodie Frankensteins. Radley Madish's most recent creations are the vicious Burgerzillas. Although his Burgerzillas are dangerous, they could use some work. His solution is to capture the most famous chef around, Papa Louie. Radley figures if Papa can make a perfect Burger for his customers, just imagine what kind of Burgerzilla he could build for Radley's growing army.
For all you fans of  the original Papa Louie, you'll be pleased to hear that Party Subs are back and ready to party!
Stay tuned for more info on Papa Louie 2: When Burgers Attack!
Comments
Powered by Facebook Comments