Question 1:
Why do you level up by earning money in Papa's Pizzeria, when in the later games you level up by earning points?
Answer 1:
You couldn't spend your money on anything in Papa's Pizzeria, so since it was a restaurant business we used money as if they were your points — you would level up by earning more money, and the high scores were shown as tips earned. We received a lot of feedback from the first game that players wanted to actually use the money they earned, so in Papa's Burgeria we added a shop to buy upgrades. Since you could spend the money and run out, we couldn't use it as a points system anymore for leveling up, so we added regular Points to the Gamerias after that.
Question 2:
What was the most difficult Papa's game to make?
Answer 2:
Each of the games have their own tough challenges while we're making them, but the most difficult was probably Papa's Wingeria. We had wanted to make a game with wings since Burgeria, but couldn't quite figure out how to handle a Build Station, until we finally thought of arranging wings and sides on a platter. Figuring out the different patterns and how to score them took a long time, and we also went through many options for how the Fry Station and Sauce Station could work. On top of that, figuring out custom Workers was another big challenge, and designing all of the clothing options for them.
Question 3:
Is Papa Louie 2 done yet?
Answer 3:
We have been very busy with Papa Louie 2! Matt just finished up all the sound effects and new music for the game, and we're working on adding more details to all of the levels. We just have a short list of things left to do, and then it's time for play-testing, where we make sure all of the skills are working nicely and all the challenges are doable. After we've started this we should have a better idea of when the game will be ready to release. We don't have any new previews since we don't wait to spoil any of the surprises with playable customers or our new lands and enemies, but stay tuned for more details on when the game will launch!
If you have any other questions, click the "Ask a Question!" button at the bottom of the blog!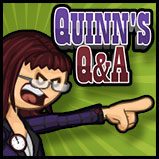 Comments
Powered by Facebook Comments