Go Repo
Play as a repossession team and collect the required value of items in each level. Play Now!
Crash TV
Dynamic platformer with original mechanics! Crazy and fun gameplay with great music!
Play Now!
Papa's Pastaria
Head to Portallini and start your career as a pasta chef! You're in charge of Papa's Pastaria, where you'll take orders, cook noodles, add sauces and toppings, and toast breads to craft the perfect plate of pasta for your customers! Play Now!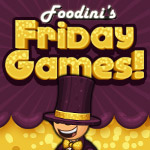 Comments
Powered by Facebook Comments