Hey Everyone!
We have been making some major updates to the custom worker and thought we'd share them with you for this week's sneak peek!
First off, we streamlined and redesigned the Stats/Clothes/Body interfaces.
For the Clothes section, we made things much more visual by giving each type of clothing their own inventory gallery. This way each piece of clothing is only a few clicks away, instead of the endless blind clicking of the past games.
We also updated the body customization section. For guys, you can now see at a glance all the hairstyles and facial hair options that are available to you. We also added a bunch more hairstyles and facial hair styles for guys.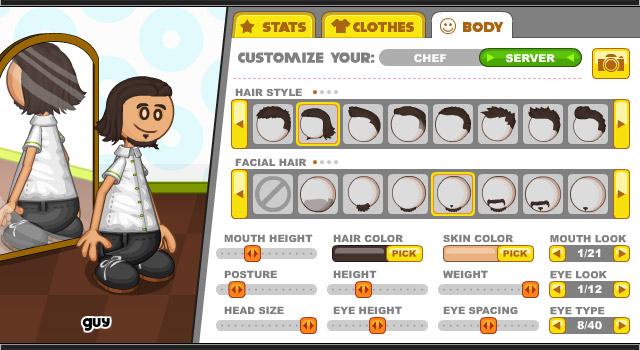 If you notice, we also added a new slider for your worker's weight!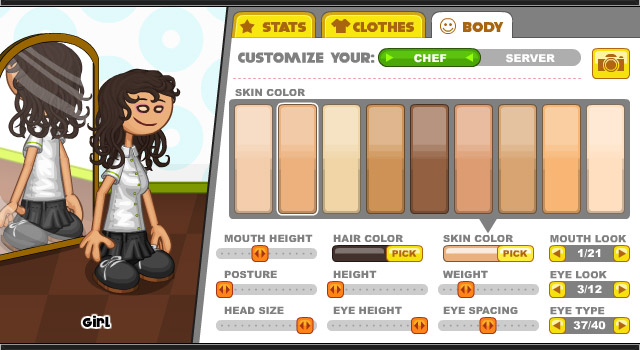 You will now be able to easily choose the perfect hair and skin color using our new and improved color swatches! We have also included a wider variety of hair colors to choose from! On top of all that, we also included more makeup and eyebrow options along with more eye shapes!
Even with all these new additions, we kept brainstorming how we can get more variety out of the customers. Last fall when Kingsley hosted the Customerpalooza, we noticed so many of the girl customers looked similar. What we thought was a wide selection of girl hairstyles turned out to be quite limiting, and left people with only a few really cute hairstyles to choose from.
Well that is all about to change! After sitting down and studying girls' hairstyles, we found that the variety simply came down to the mixing and matching of bangs with a hairstyle. So with that in mind, we completely reworked all the girl hairstyles in the game. We separated the bangs from the body of the hair, added a boat load of new designs, and let you decide how to mix and match them!
So far we have over 700 possible combinations that you can make between bangs and hairstyles with more to come! Add on hair color and hats, and the amount of unique hairstyles are practically limitless. We're focusing on girl hairstyles right now, but don't worry, guys will be getting some new hairstyles too!
Here are some of the different hairstyles and bangs that will be available to you in Papa's Donuteria!


Check back each week for more news and previews of Papa's Donuteria!
Comments
Powered by Facebook Comments