Hey Everyone!
This week we wanted to show off the Fry Station!  Before we dive into the Fry Station, here are a few screenshots to lead into it.
Let's start on Day 2. It's a warm August morning and the park is already filled with potential customers.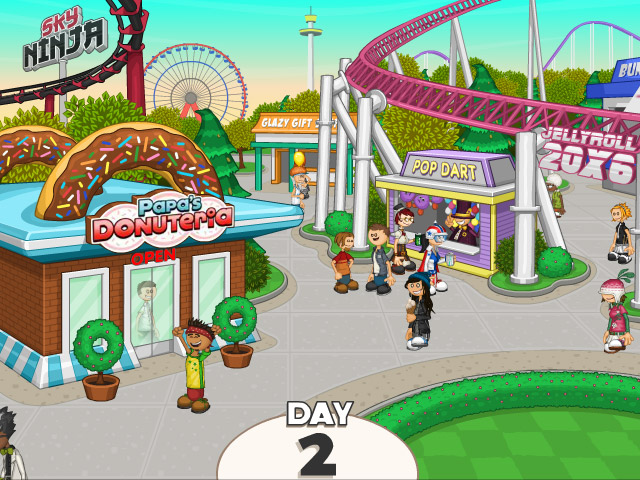 Alberto is your first customer today. He wants one chocolate ring donut, a regular ring donut, and a chocolate round donut with strawberry jelly (we'll explain that in a week or two).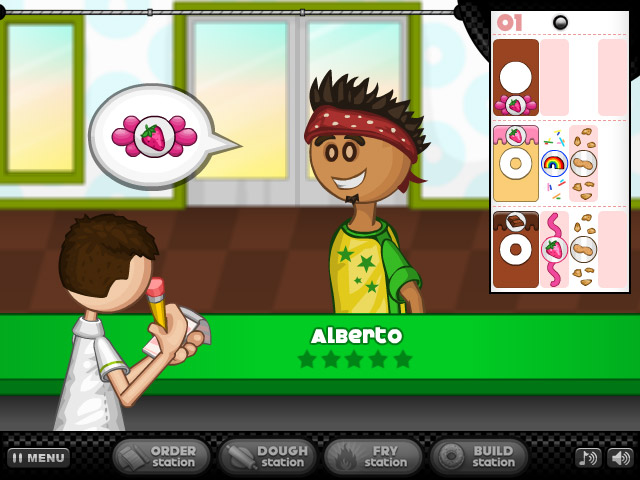 After you've whipped up the perfect donut shapes in the Dough Station, you will head straight for the Fryer.
Donuts are not baked, grilled or even boiled. A true donut, my friends, is fried to perfection. This usually incorporates a large fryer vat that has room for the donuts to float around.
Something sorta like…
well…
THIS!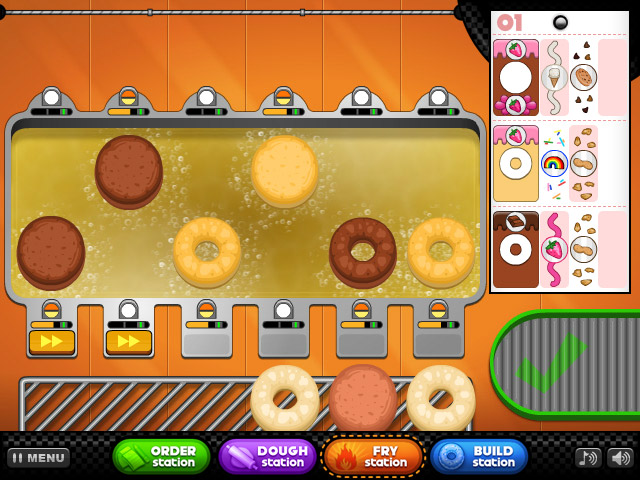 Ahh yes, the good ole' Fry Station. I can hear the warm dough sizzling as we speak. This vat is quite roomy; accommodating up to a dozen donuts at a time. And with each customer ordering three donuts, that room will be greatly appreciated. Each of the 12 fryer spots has it's own cooking display that can be upgraded with alarms. Each column has it's own booster that you can buy from the shop to help speed things along.
The cooking process for donuts is unique for a deep fryer because they automatically float on the surface of the oil. This means that you will need to flip the donuts halfway through their cooking cycle in order for them to be evenly cooked on both sides.
Raw donuts that are fresh from the Dough Station are located on the rack at the bottom of the screen. When a donut is finished cooking, you will send it off to the Build Station via the green √ conveyor. However, we will save the Build Station for another day. So… check back each week for more news and previews of Papa's Donuteria!
Comments
Powered by Facebook Comments