An Ordinary Day
First, you're late for work, then put in prison, escape to the desert, fight bats in a cave and end up in a strange prehistoric world. You know… just another ordinary day. Play Now!
Calabash Bros
A horde of strange and vicious creatures is pouring into the lands of the Calabash Bros. Protect the territory from enemy attack by building a variety of towers.
Play Now!
Offroad Truckers
Each year, dozens of trucks are pulled from their garages for a national race called Offroad Truckers. To properly compete, these aging trucks have been modified to carry bombs and other dangerous weapons. Shoot your enemies down as you race for gold! Play Now!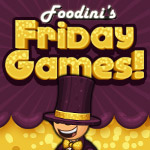 Comments
Powered by Facebook Comments