Shadow Kings
Join forces with unruly dwarves & proud elves and take on the vile shadow force! Conduct trade and get your economy rolling. Build your city into a mighty metropolis and defend it against orcs, goblins & trolls! Fight other players or form alliances to win power & honor. Play Now!
The Great Magician's Curse
Help the magician escape creepy dungeons after another trick goes wrong. Use your magic to control multiple characters at once, taking advantage of their unique abilities to solve puzzles, and reach safety.
Play Now!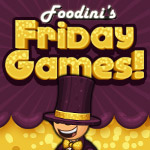 Comments
Powered by Facebook Comments