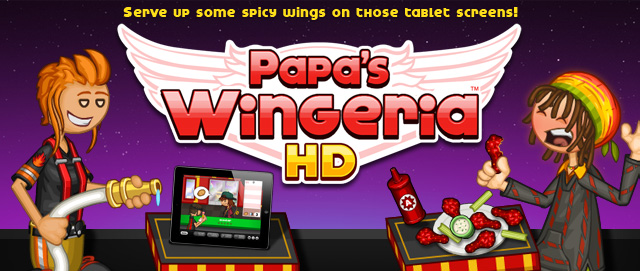 Hey Everyone!
The day we've all been waiting for is here! Papa's Wingeria HD is ready to play on  iPads, Android Tablets , Kindle Fires, and Nooks! Check out all the details on the official Papa's Wingeria HD site.
Get Papa's Wingeria HD  from your favorite app store!

You've won a trip to Starlight City and find yourself in charge of Papa's latest restaurant, where you'll need to run the fryers and toss chicken wings in an assortment of flavorful sauces. Your customers expect a great presentation, so arrange the fried foods with sides and veggies so they're pleasing to the eye — and their stomachs!
Though the restaurant is known for its famous wings, you'll also unlock a variety of other meats to fry for your customers, as well as a wide array of delicious sauces and plenty of sides and dips to go with their meal. The familiar hands-on gameplay of the series is back, but this time you'll especially have to focus on presentation and how to best lay out the plate with all of the food ordered. Learn a variety of patterns for arranging the food to earn the best scores from your customers, and earn big tips to spend in the Shop!
This brand-new edition of Papa's Wingeria stocks the restaurant with additional meats, sauces, and sides that aren't found in any previous version of the game! You can also serve 20 new customers that didn't appear in the original version, for a total of 89 unique customers that will visit the Wingeria.
You can choose to play as either Chuck or Mandi, and the custom characters from "Papa's Freezeria HD" return with even more hairstyles and new customization options. You can also find an expanded wardrobe of clothing for your workers in the Shop, where you can buy new clothing and accessories with your hard-earned tips.
Papa's Wingeria HD now features a Dining Room where customers can sit down and enjoy their wings, and you'll be able to hire a Server to help you take orders and deliver food to the seated customers. You can hire Chuck or Mandi as your Server, or create another custom character to staff your restaurant. Any clothing and accessories you buy in the Shop can be used by both of your workers, so you can coordinate their uniforms or give them each their own style!

Comments
Powered by Facebook Comments