Hey Everyone!
So… are you excited for Papa Louie 3?? We sure are! For the first preview, we wanted to formally introduce you to the major baddies who will be wreaking havoc on the S.S. Louie.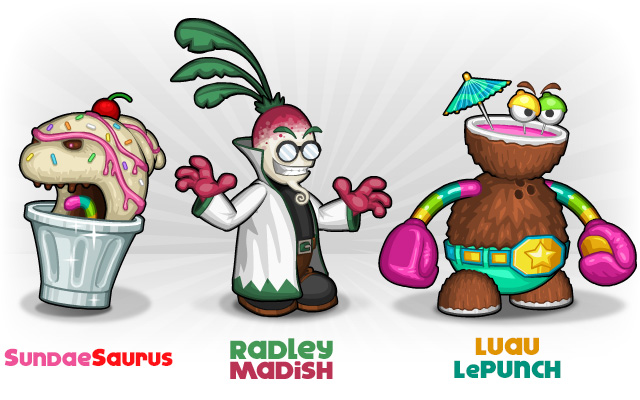 Radley Madish
Radley is back and even more Mad-ish! After his first failed attempt to capture Papa Louie, Radley quickly started work on a new plot to capture some high-ranking chefs. He started by cleaning house and firing Sarge. He then started crafting his most powerful Monster Guards to date. More Info
SundaeSaurus
These freezie frankensteins will do whatever it takes to protect Radley and guard the captured customers. Sundaesauruses are very tough and can take a quite few hits before calling it quits.

Luau LePunch
Before Radley could start his attack, he needed some major muscle. So he traveled to Gummy Grotto to recruit the widely feared boxer, Luau LePunch. Watch out for this guy!
Stay tuned for more info and sneak peeks of Papa Louie 3: When Sundaes Attack!
Comments
Powered by Facebook Comments