Level Editor 4
This stick figure is exploring the Wild West. Could you help him make it back home in one piece? Play Now!
Blast RPG
How far can you launch your knight in shining armour? Slay the bats along the way and reach your goal!
Play Now!
Rafting Toad
Guide this rafting toad along the river and across the finish line as fast as possible. Collect flies along the way to earn points. Watch out for obstacles, such as rocks, whirlpools and bombs. If you hit them, you'll croak…and not in the good way! Play Now!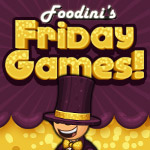 Comments
Powered by Facebook Comments