Hey Everyone!
So last week we mentioned that we are doing away with Badges.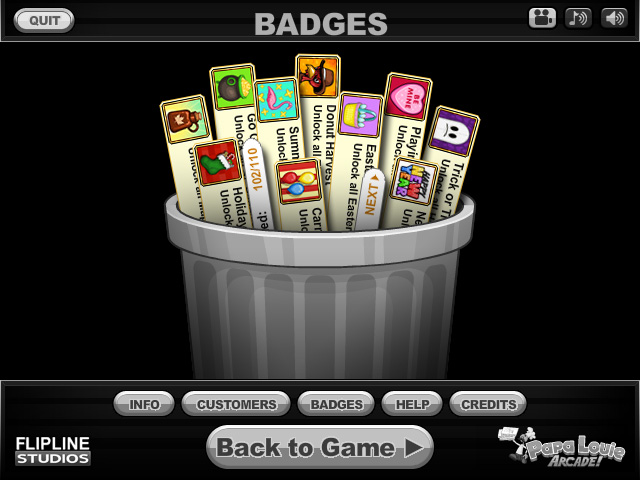 We decided to do this because the badges as a whole had several problems…
First, they were a secondary game element that didn't impact the game, outside of bonus tips and tickets. This created a disconnect with some players who would end up never even opening the Badge Section. It also didn't help that you could only see the Badge Section after you started a day, then went into the menu.
Secondly, the badge experience felt more technical than fun, with the menu itself feeling more like a spreadsheet.
For awhile now, we knew we could do better. Our goal was to make it more engaging, fun, accessible, and meaningfully tied into the gameplay. So with that being said, we would like to introduce our brand new Sticker Section!
Now you can collect tons of colorful Papa Louie Stickers. As with previous badges, you will find some classic tasks like getting 5 Blue Ribbons or unlocking all the Christmas toppings. However, we have kicked it up a notch with more specific tasks and challenges that will allow you more freedom to decide which sticker you want to earn next.
You can easily view your Stickers before and during your work day with the new and improved menu bar. Other sections are available from the start of the day like the Customer Section. Which brings us to the second HUGE part of the new Stickers system…
We have completely redesigned the Customer Section in Papa's Bakeria to incorporate some big BIG changes. Now, every customer that arrives has a three specific stickers assigned to them.



And here is where things get really exciting…
When you earn all three of those stickers, you unlock a brand new outfit for that customer!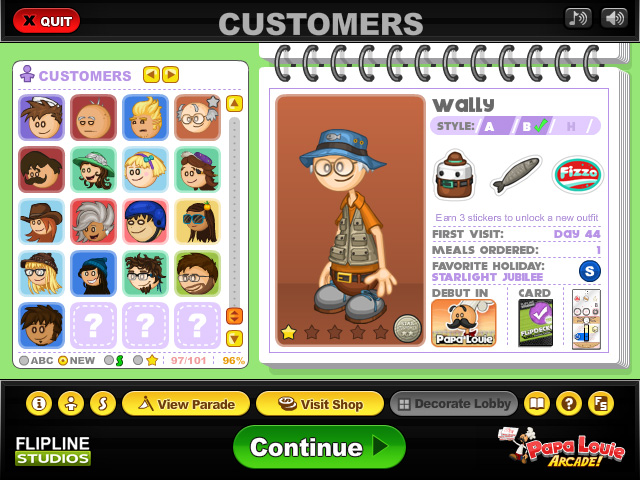 On top of all the customers getting cleaned up, every customer now has a brand new outfit that you can unlock by earning Stickers! So if you really want to see Wally in his fishing gear, you better remember to complete the "Wallyberry" task!
Once a new outfit is unlocked, you can switch between the two in the Customer Section. Getting tired of Wally's blue bucket hat? Problem solved by simply going into your customer section and switching him back to his classic look (Style A).
We've also included a helpful ticket button on the Customer profile so that you can quickly view their current order. On the left-hand side of the Customer Section, you can scroll through all the customers you have unlocked. You can also now sort them by name, arrival, by stars, and by how many stickers they have. On a sidenote, the customer pictures on the left are not the new "cleaned up" versions. We are still working on those.
Now you'll notice below Wally's name is Style: A, B, and H. Style H stands for Holiday, and in this scenario, Wally doesn't have an alternate style for any holiday and it is grayed out. But for customers who do have an alternate Holiday style, you'll be able to view it there. Take for example Willow and her spooky Halloween costume!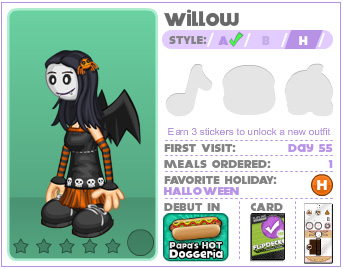 That's it for today's sneak peek. The Sticker Section and all the outfits that come along with it has been a huge undertaking… but it is sooooooo worth it!
Stay tuned for more sneak peeks of Papa's Bakeria!!
Comments
Powered by Facebook Comments