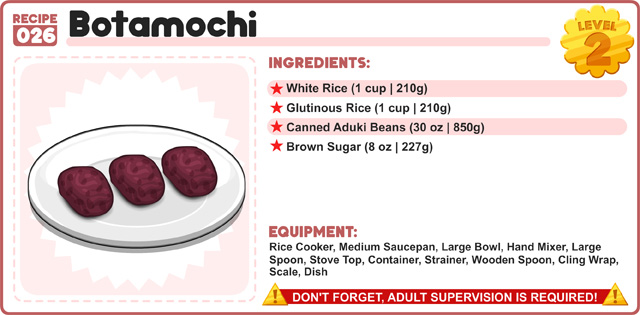 1: Preparing the Azuki Paste

Botamochi is a unique treat from Japan made of sweet rice and Azuki paste. We first introduced Botamochi in Papa's Cupcakeria HD.

First you will need to find two 15oz cans of Azuki Beans. They also go by several alternate names including Adzuki, and Aduki. Not the dry bag of beans, but the cans. If you can only find dry azuki beans, you will have to prep them a bit different.

Empty the contents (beans and liquid) of the cans into a medium saucepan. Mix in the brown sugar. Boil the mixture for 45 minutes while stirring occasionally.

Then pour the contents into a mixing bowl, and blend until it is a mash potato like consistency.

Let the bean paste cool down. Then place it in a container, cover, and place it in the refrigerator until cold.

Pour in the Glutinous Rice and the White Rice into a strainer and rinse it 2-3 times. Let the rice sit in the strainer for about 30 minutes.

Pour the rice into a Rice Cooker. Fill with water until water is 1 inch over the top of the rice. Cook at the "White Rice" Setting (around 30 minutes).

When the rice is done, mash it with a wooden spoon into a mushy consistency.

If you  do not have a Rice Cooker, you will need to cook the rice on the stove top.

First, place a sheet of cling wrap on a scale. Place 2 oz (56.7 g) of Azuki Paste on the the cling wrap. Flatten it out into a disk.

Roll a 1.25 oz (25.4g) ball of rice and place it on the center of the Azuki Paste disk.

The sheet of cling wrap will act as a barrier between your hands and the bean paste. Encapsulate the rice ball with Azuki Paste by folding up all the corners and edges of the cling wrap around the rice. Twist the ends of the cling wrap together so it packs the rice and paste together nicely.

Now you have a perfect Botamochi. Unwrap, place it on a dish, and try to make some more.

| | | |
| --- | --- | --- |
| | Hope you enjoyed this week's recipe from Papa's Cook Book! If you made this delicious dish, we would love to see how it turned out. Send pictures of your masterpiece to info@flipline.com, or post them on our facebook wall, or upload them to the Papa's Cook Book section of our Forum! | |
Last time, we had you make Apple Crisp Pie. Let's see some examples:
Comments
Powered by Facebook Comments