Wizard Walls
Arcade defense game featuring original gameplay. Save sheep, cover the engineer and caravans, protect the balloon and keep vicious trolls and goblins away from your soldiers. Play Now!
Skywire 2
Help your teeny tiny passengers get to their destination aboard the Skywire. Avoid wind-up animals of all shapes and sizes as you travel along the ever twisting wire.
Play Now!
Trophiends
Everything is better with friends! Especially the constant threat of explosive death! Play Now!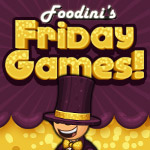 Comments
Powered by Facebook Comments