Monty's Moon
Collect Bananas to help Monty leave the lonely jungle and launch himself into space in search of a moon monkey girlfriend! Play Now!
Mushbits 2
The bunnies are back for more! Help the bunnies reach their same-colored cupcakes by clicking and dragging to create a path. Each bunny can only hop on the tiles that are the same color.
Play Now!
Slime Laboratory 2
Help the slime explore the secret laboratory, and face all of the strange enemies and obstacles along the way. Play Now!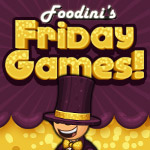 Comments
Powered by Facebook Comments