Ransom Valentine
The queen and her maidens are trapped in cages across the land! Use your trusty cannon to destroy the cages and free the prisoners. Play Now!
Tiny Diggers
Guide the Tiny Diggers to the treasure cave by giving them different abilities! Tell the Tiny Diggers to climb, dig, parachute, and more to guide them on their way.
Play Now!
Gem Boom
Help the mole mine for gems! Guide the bomb towards the rock to uncover the gem, and collect the mosquito-filled chunks of amber along the way. Play Now!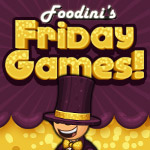 Comments
Powered by Facebook Comments