Question 1:
Why do you skip some Papa's Gamerias when you're making apps?
Answer 1:
We didn't really plan to go in order when making apps of the Gamerias. We started with Papa's Burgeria since it had simpler mechanics and we thought flipping burgers and stacking toppings would be fun with a touch screen, and we did Papa's Freezeria next because the ingredients were so different from everything seen in Papa's Burgeria, and it's always been a fan favorite. We knew the gameplay in Papa's Wingeria would work great on a touch screen, so we decided to work on that one next. That doesn't mean we're giving up on the games in-between though. We'd love to go back and make apps of the other games we skipped in the future!
Question 2:
Besides the Gameria series, what was the hardest game to make?
Answer 2:
Our MMO platformer Remnants of Skystone was definitely the hardest to make, but of the other games, Jacksmith was probably the most difficult to develop. In Gamerias, each meal in a game is basically built the same way (steak tacos aren't too different from chicken tacos), but with Jacksmith we had six different crafting processes where each weapon was created differently. We were also trying to combine game genres in a new way, which always takes some time to get right. On top of that, we added tons of content to the game with dozens of enemy types, lots of elemental variations, and hundreds of weapon parts. We worked off and on for nearly a year on Jacksmith, which is much longer than we usually take!
Question 3:
Why are there Gummy Worms in Papa Louie 2? All of the other creatures are burger-related or savory foods.
Answer 3:
As you might have guessed, Gummy Worms are not native to Mount Monterey. Professor Fitz believes they originate from the far reaches of Munchmore in an area that he calls the Gummy Grotto, though no one has traveled that far to find out if it's true. Gummy Worms are a favorite of the Lettuce Larks, and it seems they've flown to the worms' far-off habitat and brought some back to the cheesy mountain.
If you have any other questions, click the "Ask a Question!" button at the bottom of the blog!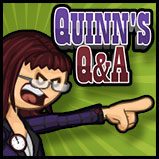 By