Question 1:
Holidays are fairly recent, yet most of your customers have been around for a long time. How do you match older customers to holidays?
Answer 1:
Once we decide on the food items we'll have for each holiday, we try to find customers who would normally like those foods, or that seem to go well with them. Chuck usually orders something with pineapple, so he's a fan of Summer Luau with its tropical-themed foods. Sarge Fan would of course be excited about Onionfest and all of the onion-themed items in Papa's Cupcakeria, and he switched his favorite holiday to Halloween in Portallini to order pasta with onions. We have a long list of every customer's favorite foods, so we sometimes switch their favorite holidays in certain towns depending on when their favorite items are available.
Question 2:
Of all the toppings typically used on a pizza, why did you pick onions as the main enemies for Papa Louie?
Answer 2:
We were originally going to have lots of different foods as enemies for Papa Louie, including spaghetti monsters and flying cannolis, and other vegetables like green peppers and eggplant. Sarge was originally going to be one of these regular enemies in the game, with lots of smaller pepper-tossing Sarges running around. When we decided he would fit better as the main boss of the game, we added more onion enemies for him to command, and removed a lot of the other random enemies that didn't quite fit.
Question 3:
In Papa's Donuteria, why does Santa only visit during Christmas?
Answer 3:
When Santa first started visiting the restaurants in Papa's Cupcakeria, he would first come during Christmas and order cupcakes decorated for the holiday. After Christmas though, he would still come back to the cupcake shop for regular cupcakes, and it seemed really strange to see Santa in the middle of summer! Since he seemed so out-of-place, in the newer games he'll only visit during the Christmas season. And you must have been good this year, since when he first visits he already has a Silver Customer Award!
If you have any other questions, click the "Ask a Question!" button at the bottom of the blog!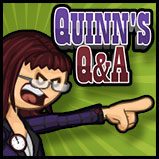 By