Question 1:
In Papa Louie 2, what are the trees in BBQ Bog and the Saucelands made of?
Answer 1:
That area of Munchmore is themed like many barbecue restaurants, which is why you'll find hills that look like checkered tablecloths, bridges made of sausages, and these unique trees that seem to be topped with cole slaw instead of leaves. You'll also find lots of metal pipes in the area, carrying that delicious barbecue sauce to other areas of the land!
Question 2:
What do they serve at the Chicory Café in Portallini?
Answer 2:
The Chicory Café is a popular place in town to grab a cup of freshly brewed coffee or a delicious espresso beverage. Each morning they serve a new special blend of coffee, and the regulars love to stop in and try the latest flavor before heading to work.
Question 3:
What inspired you to create the Cactus McCoy series?
Answer 3:
We had previously worked on a short game for Lionsgate Films based on the Expendables movie, which was designed like a classic retro platformer with each character wielding a different weapon. As we were working on the game, we originally wanted one of the characters to fight hand-to-hand by punching other enemies, and had him hitting and juggling the enemies in the air. Lionsgate ultimately decided on a different weapon for him to use, but we were still interested in the idea of a platformer where you could fight with a weapon or choose to use your fists. We later took this idea and expanded on it with a variety of weapons that both the main character AND the enemies could use, combining elements of shooting, melee, and brawling into a single new game. At one point we also saw the word "enemigo" used in a description of our Papa Louie game on a Spanish-speaking website, which gave us the idea of using a Southwest or Wild West theme for the game (and for using the name "Enemigos" for the bands of outlaws that Cactus McCoy fights).
If you have any other questions, click the "Ask a Question!" button at the bottom of the blog!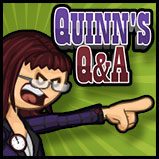 Comments
Powered by Facebook Comments