Papa's Pancakeria HD
Rise and shine with seasonal pancakes, waffles and more in Papa's Pancakeria HD! Available for iPad, Amazon Fire, and Android Tablets!
Get It Now!
The Ritual 2
Gideon and Joe's last ritual was a complete disaster, but they are not giving up. Tonight they will try again, and once again your help is needed.
Play Now!
Notebook Wars 3
(classic) You have to destroy all the enemies you can in this paper-shooter with 45 customizable planes, 20 different upgradable weapons, and 50 different enemies, plus 5 epic bosses! This is madnes!! Play Now!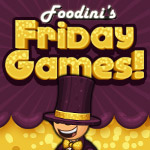 By