The Shadow Realms Arcade
For the past two years you have worked at the Lone Star Arcade, thinking you know the place inside out, but tonight, you are about to discover that this arcade happens to lie on the outskirts of… The Shadow Realms. Play Now!
Burrito Bison Revenge
(Classic) Burrito Bison is back for more gummy squashing action in this epic sequel! More special gummy bears, more wrestling in the ring, more doors to shatter, more powers to upgrade, more money to steal, more, more & more! Play Now!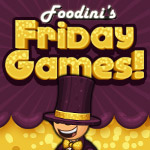 By