Hey Everyone!
Today is the day! Papa's Freezeria Deluxe is here and ready to play!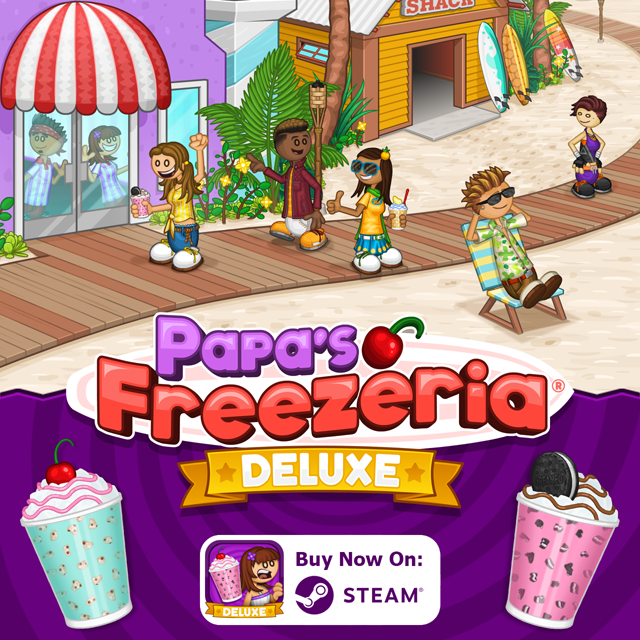 After starting a relaxing job at the oceanfront ice cream shop on Calypso Island, things get hectic when all of Papa Louie's crazy customers arrive on the island! Now it's up to you to single-handedly craft and serve tasty sundae treats throughout the year. You'll whip up delicious Freezer sundaes by pouring ice cream, adding mixables and syrups, blending sundaes, and finally adding whipped cream and toppings for that perfect summertime treat. You'll need to multitask between each area of the restaurant, where each station is a unique hands-on experience.



There's more to see and do on Calypso Island than ever before! In this deluxe reimagining of Papa's Freezeria, you'll unlock new ingredients, new customers, and new seasonal holiday flavors as you play. Even more customers have arrived on the S.S. Louie cruise ship, so you'll see some new faces along with your Freezeria regulars. There's also a variety of new features for the ice cream shop, including Daily Specials, unlockable customer outfits, helpful Score Details, a Freezeria Food Truck, and more!



Calypso Island is the perfect location for more than just a summertime getaway: Papa's Freezeria is now open year-round! Celebrate the holidays on the island with new seasonal sundaes, including a variety of brand-new syrups, mixables, and toppings for each holiday of the year. You can also buy holiday clothing and decorate the lobby with seasonal decorations to get in the holiday spirit!



After you hire a Driver, you can send them out in the brand-new Freezeria Food Truck between days to serve whatever you like! Use your imagination to create your own unique sundaes, then serve them from the Food Truck and see who shows up to try them. You can even mix and match ingredients from different holidays in the Food Truck for creative combinations!


Hands-on gameplay for building, mixing, and topping sundaes
Custom chefs and delivery drivers
Food Truck for open-ended free play mode
12 separate holidays to unlock, each with more ingredients
7 exciting Mini-Games to play after each workday
Tons of furniture and clothing to decorate your shop and workers
Earn and master 40 unique Special Recipes
View Score Details to learn from your mistakes
Customer Coupons to entice customers to return
90 colorful Stickers to earn for completing tasks
Unlock alternate outfits for every customer
143 customers to serve with unique orders
149 ingredients to unlock
By