Hey Everyone!
A few weeks back we showed you what a Cookie Sundae would look like for Papa's Scooperia. This week, we will expand on that idea and show off a new system for the game that will change the way customers order their sundaes!
Customers will now have evolving orders!
When a new customer first comes in, they will order a small cookie sundae with one cookie and one scoop of ice cream. However, things change once you level up your customer to Bronze. For those that don't know, a customer will level up to Bronze when you serve them the correct order 5 times in a row. Five more times will level up that customer to Silver, and an additional 5 more times will get them to Gold.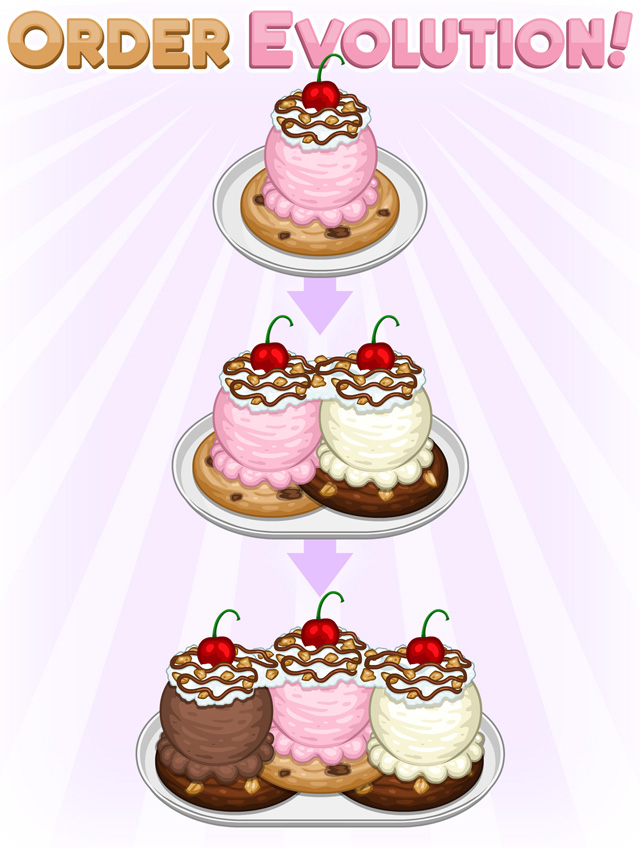 Once your customer is Bronze, they will start ordering a medium cookie sundae which has 2 cookies and 2 scoops of ice cream. This may also include a new topper ingredient as well. When you level up your customer to Silver, they will start ordering their fully evolved large cookie sundae, with three cookies and three scoops of ice cream.
This evolving order system will add a fun level of challenge that slowly advances alongside your sundae-crafting skills.
Stay tuned for more sneak peeks of Papa's Scooperia!
Comments
Powered by Facebook Comments