On this day in 2007, we launched our hit restaurant game Papa's Pizzeria! Five years later, and five restaurants more, Papa's Pizzeria is still being enjoyed all over the world. Since it's launch, it has been played well over 133,000,000 times,  and is still played over 100,000 times a day!
The game can feel a bit archaic when compared to the newest Gamerias, but Papa's Pizzeria was our first step into a hands-on time-management game, and created the framework and gameplay structure for all of our future restaurant games. Although it didn't have upgrades, customization, unlockable toppings, mini-games, or any of the other improvements we've added in the sequels, there was still a sparkle of fun that brought people in and kept them playing "just one more day"!
Initially, Papa's Pizzeria (or as it was originally called: Delivery Boy Roy's Pizzeria Panic) was just a fun little idea we had after making the game Papa Louie: When Pizzas Attack!. We started wondering, who's keeping up with the pizzeria while Papa Louie is off on his platforming adventures? This lead to many funny visions of Roy coming into work, only to find that he's stuck running the pizza place all by himself.   As we starting thinking about it more, we wondered if this concept could actually be turned into a game on its own.
Matt from Flipline Studios worked at a pizza shop in college and had first-hand knowledge of the process, so we sat down and started planning out what would be one of our most popular games.  We wanted the game to have the hectic pace of time-management games, but instead of waiting on tables, we wanted the process to be more hands-on, juggling all of the various roles in the pizzeria to complete orders.  We broke down the pizza-making process into a handful of separate "stations", and worked out some hands-on mechanics like cutting the pizza at the correct angle and dragging toppings to the correct area.
We also wanted to focus on customers, and learning their orders and getting to know them. We already had 19 customers from Papa Louie WPA, and we wanted to flesh them out, and give them names and personalities. We also had an imaginary band who did the music for Papa Louie WPA that we called the Romano Family Quartet. We thought it would be fun to get them in the game and figure out what they look like. All in all, we ended up with 36 customers, a number that we have now almost doubled.
We've included a little collage of behind-the-scenes stuff from the development of Papa's Pizzeria, including early sketches, alternate layouts, and some initial ideas that were scrapped.
So why not celebrate this day by replaying (or maybe playing for the first time) Papa's Pizzeria!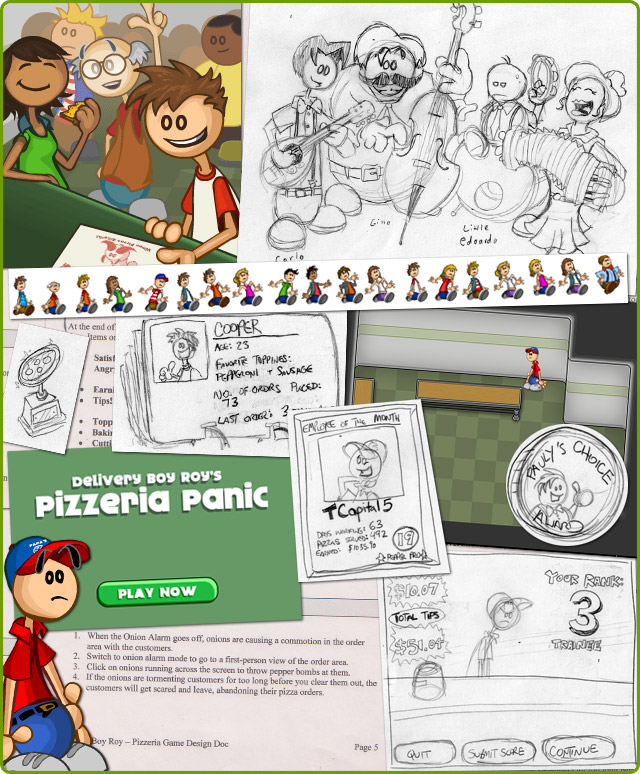 Comments
Powered by Facebook Comments