Hey Everyone!
This week we are going to explain how the new Top Station functions in Papa's Bakeria To Go!
We have completely revamped the Top Station in order to make the process more simple and quick. On the ticket we have room for three different toppings. At the top is the icon for the ingredient. When the ingredient is an individual "drop" item, it will have a number below it representing how many you will need to put on the pie. Syrups, cream, and shakers will not have a number. Below all that is a target symbol representing the three areas of the pie, an outer ring, a middle ring, and  an inner dot. The ring or dot that is darkened represents the area that the corresponding topping will need to be placed.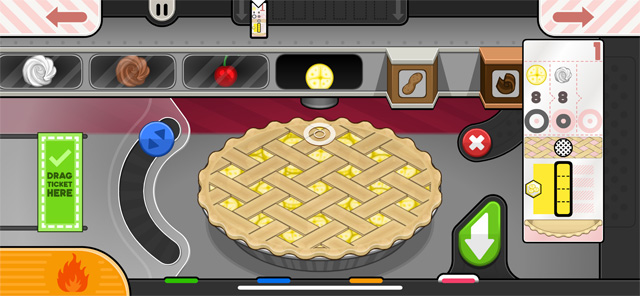 In this example, the 8 banana slices need to be placed on the outside ring of the pie. Simply slide the blue button up until your in the middle of the outer ring. Then press the green button to drop the first topping. After the first banana slice has fallen, the dropper will automatically move to the next position and wait until you press the green button again.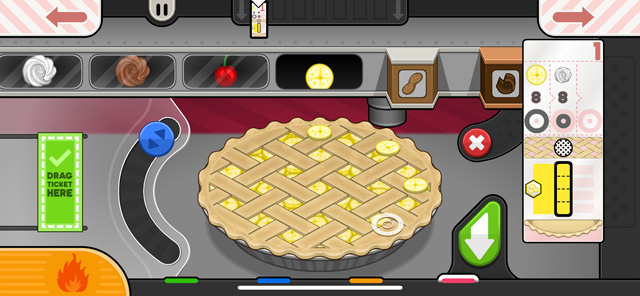 Just keep pressing the green button until 8 banana slices have fallen on the pie. Scoring will be based on how well you centered the first drop and how correctly you aligned the topping to the proper ring area.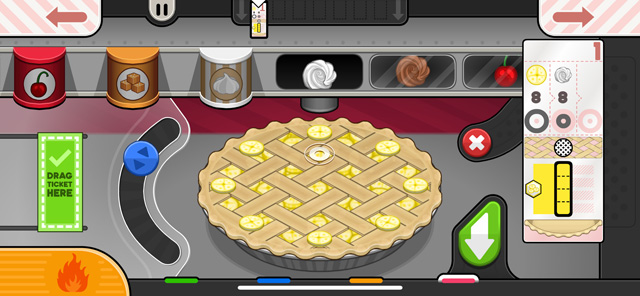 In this example, the customer also wants 8 dollops of whipped cream in the middle-ring of the pie. This time, just slide the blue button down a bit until you are in the middle-ring area of the pie, you will also notice that the reticle on the pie will change to a middle-ring icon when you have entered that area.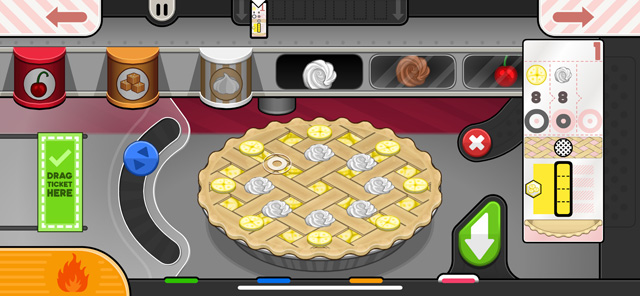 Once you have line up everything correctly, start tapping on the green button to drop the toppings.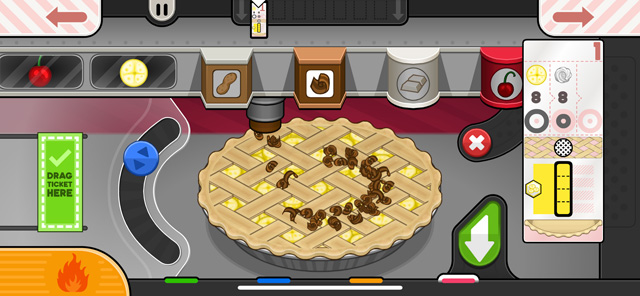 For shakers, syrups and cream, you only have to press the green button once and the topping will automatically pour around the pie. In the image above, shaved chocolate is being automatically poured around the middle-ring area of the pie.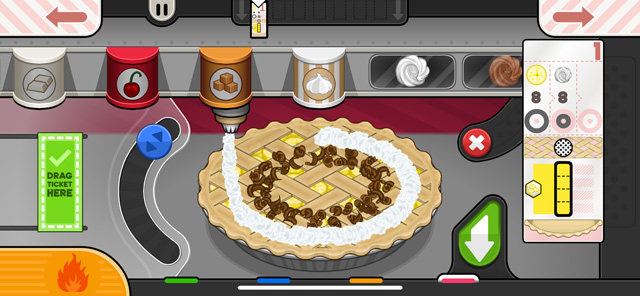 Above you can see whipped cream being poured around the outside-ring of the pie.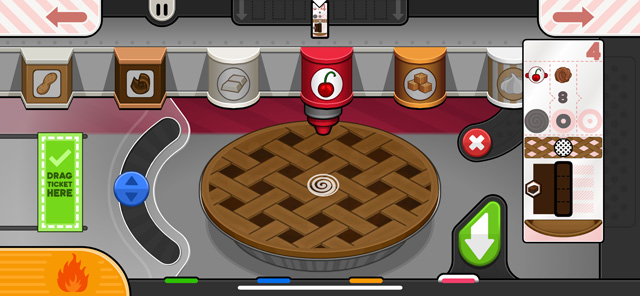 For topping that cover the entire pie, you will see a large, grey spiral covering the target on the ticket. You'll first want to line up the correct syrup, cream, or shaker with the center of the pie. Then drag the blue button to middle of the track where you will notice the reticle change to a spiral icon.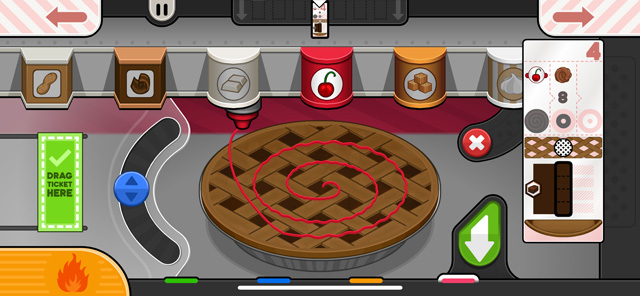 Then simply click the green button to start an automatic spiral pour that will cover the entire pie.
Stay tuned for more sneak peeks of Papa's Bakeria To Go!
Comments
Powered by Facebook Comments