Hey Everyone!
This week we are showcasing Part 1 of the Build Station in Papa's Sushiria To Go!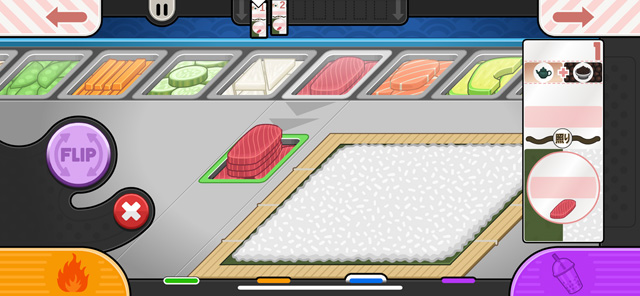 After you have cooked your rice spread it over top the nori, you will head over to the Build Station.
This first step of the sushi making process requires you to add the fillings to the roll. On the ticket, the fillings are displayed inside the circle.
You will first drag the filling bins left and right until you found the correct filling. Center that filling bin so that it is highlighted and above the two arrows that are pointing down.
If you have an order that requires the rice to be on the outside of the roll, you will want to first hit the purple "Flip" button before adding any fillings.
Once everything is aligned, the green bin will open up with the selected ingredient next to the bamboo mat. The proper amount will be stacked up and ready for you to individually drag over to the sushi rice. Once you have added all the correct filling ingredients, you can press the green "Roll" button to roll up your Sushi.
Stay tuned for more sneak peeks of Papa's Sushiria To Go!
Comments
Powered by Facebook Comments