Question 1:
Why did you call the company Flipline Studios?
Answer 1:
While in college, we came up with the name for the company. We were planning on doing a large majority of web design work, so the initial criteria for the company name was that it had to rhyme with "design", sound dynamic, and have a .com URL that wasn't taken. We had a long list of potential names that we came up with, and after a week or so of thought, we settled on Flipline. After we graduated, we realized that Flipline Design sounded a little to rhyme-y, and decided on Flipline Interactive Design Studios, Flipline IDS for short. That name was later simplified to just Flipline Studios.
Question 2:
When will you finish Remnants of Skystone?
Answer 2:
We consider Remnants of Skystone finished. Initially we were planning on 4 worlds, but Kongregate and ourselves struck a deal that instead of a fourth world, we would develop a subscription model into the game with more stat adjustments, extra attacks and other incentives. This was called the Nidarian Guard. The three worlds in the game are actually much larger than we planned as well — the entire game was originally only going to be the size of the first world! Unfortunately there's not much closure to the story, we wish the final missions had wrapped things up a bit better.
Question 3:
Your first game, Remnants of Skystone was probably the best platformer I've played, the cactus games were decent. Why not more of these?
Answer 3:
Technically, Papa Louie: When Pizzas Attack was our first platformer. We love making side-scrolling platformers as much as we love playing them! We do plan on making more down the road, although nothing quite as massive as Remnants of Skystone.
If you have any other questions, click the "Ask a Question!" button at the bottom of the blog!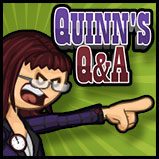 Comments
Powered by Facebook Comments